SARAH, 14 Months, This is Sarah playing outside during the summer of 1997.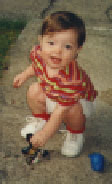 Boy do I like to play outside.
SARAH, 16 months - We went to Gulf Shores, Alabama on vacation. We are at our favorite pizza place, Papa Rocco's.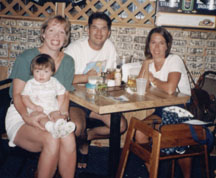 I am sitting in moms lap with dad and good friend, Michele.!
SARAH, 16 months - Here is my daddy and I having a ball in the pool.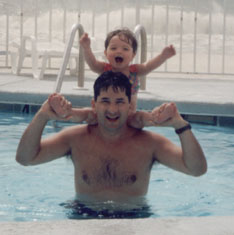 It was super windy that day, grrrr and brrrr!
SARAH, 17 months - I love the tub, I can pretend to swim
and sometimes I even like to have my hair washed!
SARAH, 17 months - I was pooh for Halloween!
I could even say "trick or treat" and I got lots of goodies.
SARAH, 18 months - This was taken right after my first haircut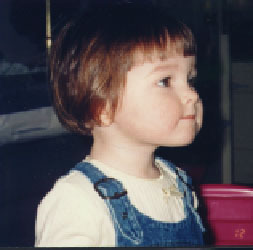 chipmunk cheeks!
SARAH, 19 months - This is from my Auntie Bobbye Ann's house on Christmas eve,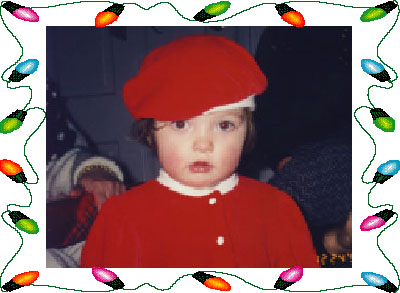 I was the little elf that delivered the presents.
SARAH, 20 months - I love to take a bath,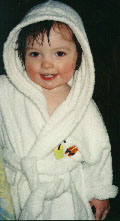 this is my Rocky pose.
SARAH, 21 Months - It snowed 22" this February,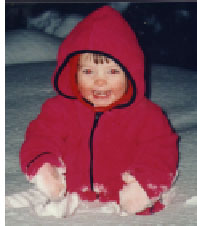 boy did I have a ball playing in it!
SARAH, 21 months - I got Mrs. Potatohead for Christmas
maybe I'll major in library science at college!
SARAH, 21 months - I love my hats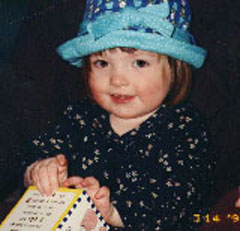 don't I have chubby cheeks