SARAH, 2 days We were getting ready to take her home.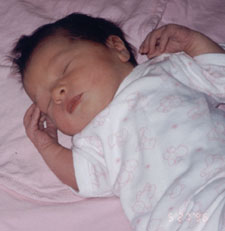 She looks like Snow White.
SARAH, 4 weeks, I am four weeks old in this picture.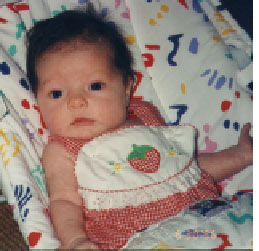 mommy thinks I look like a monkey.
SARAH, one month I actually liked wearing sunglasses.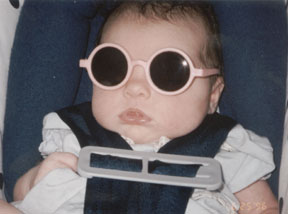 For a little while, anyways!
SARAH, 6 weeks - I was only six weeks old when this photo was taken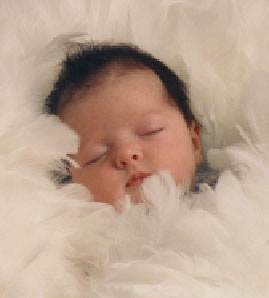 everyone says I look like an angel!
SARAH, 2 months Little did mom and dad know that they would have two baby boys that would look just like this (barring hair)in four more years.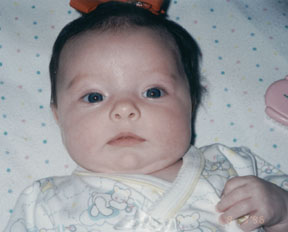 The pouty look.
SARAH, almost 3 months Getting ready to roll over.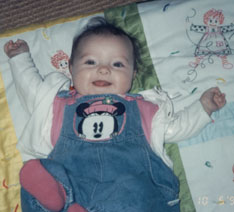 kicking it up!
SARAH, 4 months- We visited some friends in Jacksonville and I went to the beach for the first time in Ponte Vedre(sp?)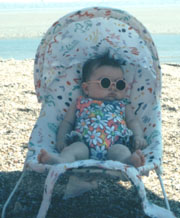 Didn't have a clue where I was!
SARAH, 4 months We were out of town and at a hotel.
I had my bath in the sink!
SARAH, almost 4 months I liked my bouncy seat.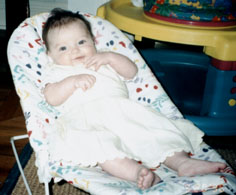 what a chunkster!
SARAH, 5 months - I am five months old here
cereal, yum yum!-Go Kentucky!
SARAH, 5 months- I was a duck for Halloween.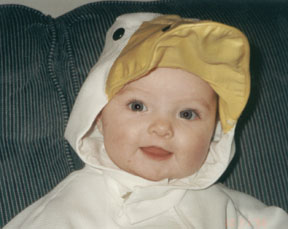 My memaw made my costume! Mom's favorite picture!
SARAH, 6 months - What a sad look!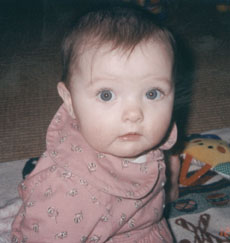 She must be sleeeeeepy!
SARAH, 6 months- Ho, Ho, Ho!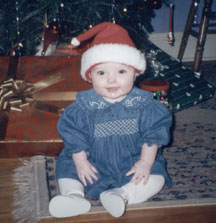 Merry Christmas!
SARAH, 6 1/2 months - I was 6 1/2 months in this picture with Santa

I liked him that year, not the next.
SARAH, 7 months - I really enjoyed pulling up to stand.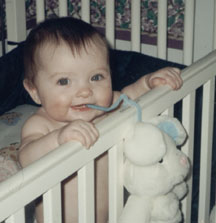 We knew life would never be the same
SARAH, 7 months - I crawled so much I passed out.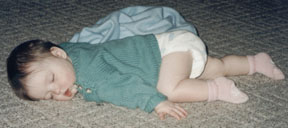 What an imprint on my face when I woke up.
SARAH, 7 months - Now this is the way to load the dishwasher.
I am sure a good helper!
SARAH, months - I started walking at 9 months 12 days.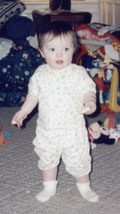 I never really staggered, just up and away!
SARAH, 11 months - I always helped daddy in the yard.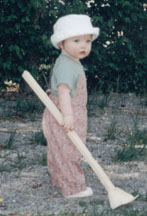 I loved to put the rocks in my mouth - YUUMM!
SARAH, 1st birthday - I'm an expert at this.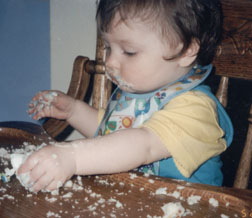 Didn't leave a bite on the tray.
SARAH, 1 year - I really enjoyed my tweety-bird cake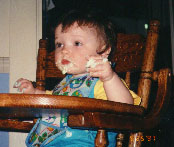 not much was left of my piece when I finished!