Our One Year Portraits and Sarah's Five Year Portraits!
SARAH, WILL, and PATRICK-We were getting mad...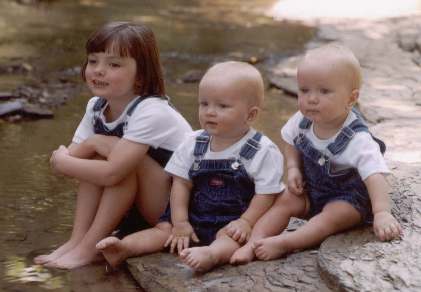 We wanted to play in the water.
WILL, PATRICK and SARAH- Sissy is reading us a book...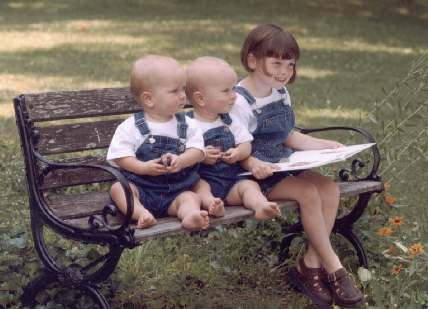 We were bribed with pebbles to sit still!
WILL, SARAH, and PATRICK- What more can you say!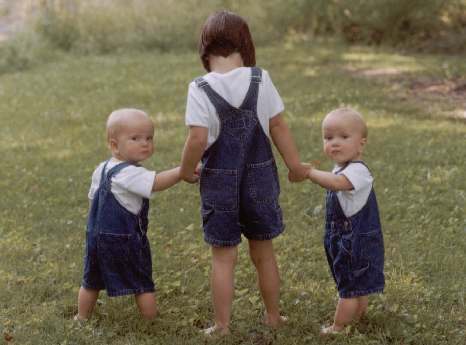 We just love this picture!

WILL and PATRICK- Again, we were wanting in that water!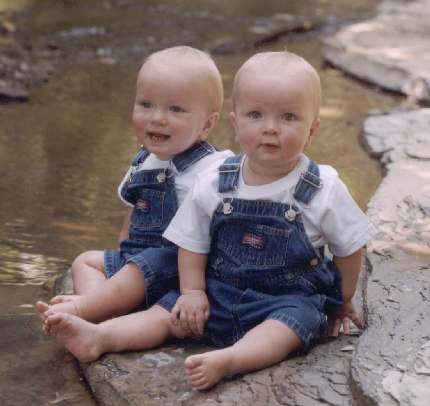 Thank goodness this was the last picture taken because off we went afterwards!
PATRICK- Aren't I a sweetie?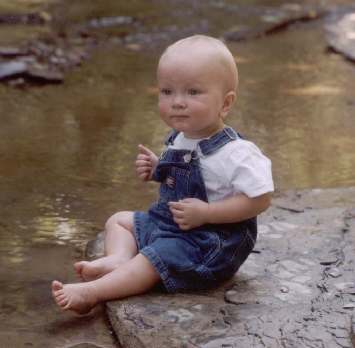 Look at that grin!
PATRICK- This is an antique hay baler!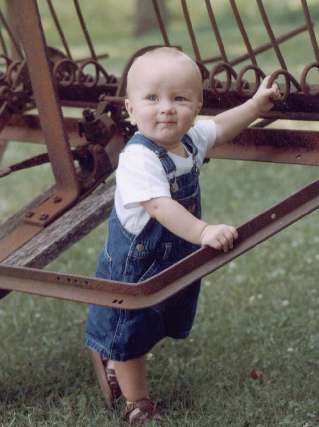 SMILE!!!!

SARAH- Our baby is all grown up!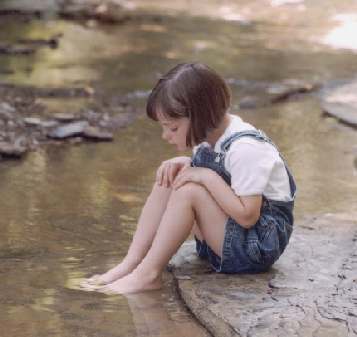 Look how big she is getting!
WILL- Aren't I the cutest thing!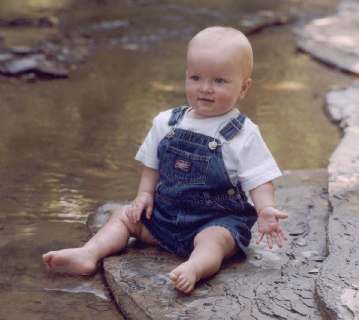 Well, one of two of the cutest things?
WILL- I loved this creek!
My bottom was a muddy mess when we were through!
WILL- Here I am at Sarah's soccer game!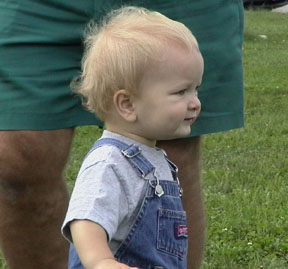 We were running wild, causing mommy to about go crazy keeping up with us!
SARAH- I was goalie for a bit during my first soccer game!
This is the only picture my mom was able to get because I wanted to pay attention to the game and she kept distracting me!
PATRICK- I already love soccer!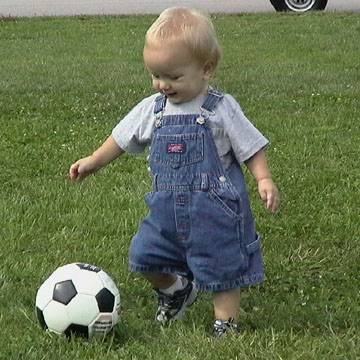 I can kick and run along with the ball very well. World Cup, here I come!
WILL and PATRICK- We fought over the ball the whole day!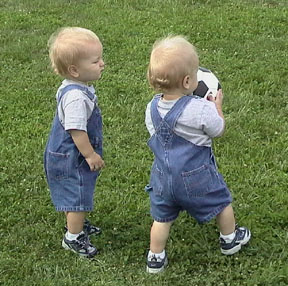 Patrick usually won because he can dribble it better than Will for now!
WILL- I've got it, I've got it!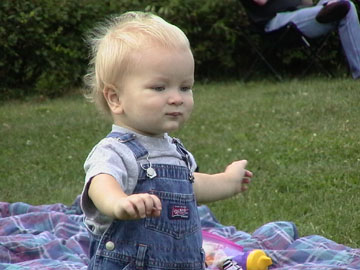 I've finally gotten the ball away from Patrick!
WILL and PATRICK, 15 months- This was taken on that fateful day, September 11!
We refused our morning nap and fell asleep in our highchairs for the first time! We knew mommy was upset and were trying to help.
All of us on Halloween 2001!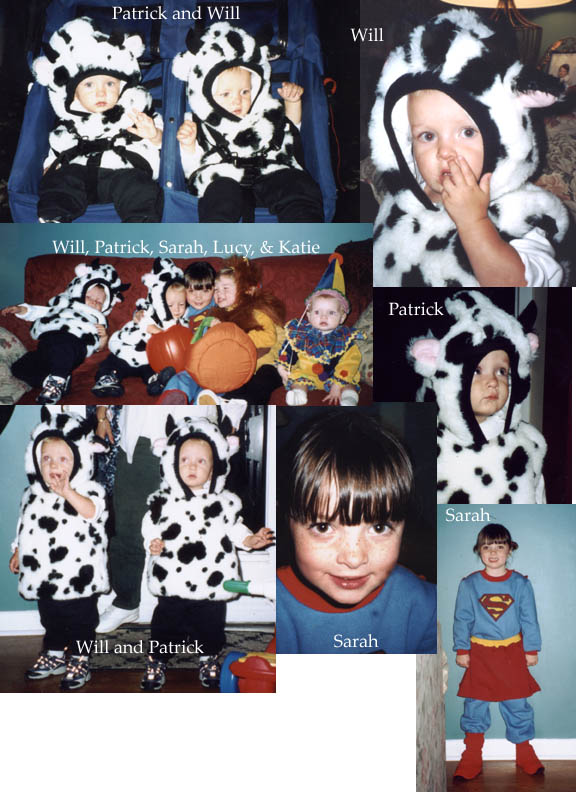 Although Sarah sure seemed to be enjoying herself, we had no idea what was going on!
SARAH-5 1/2 years My first official school picture.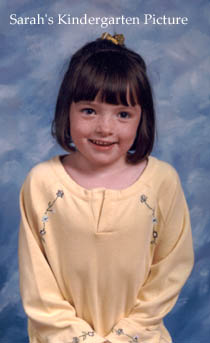 Couldn't look any more like me!
PATRICK, SARAH and WILL- Christmas 2001!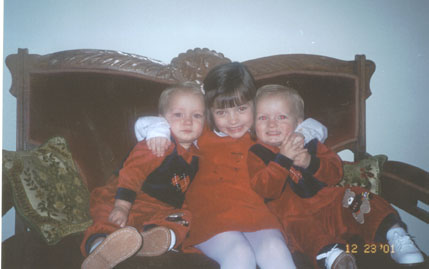 All three of us halfway smiling AND looking at the camera!
WILL-19 months Who are you?!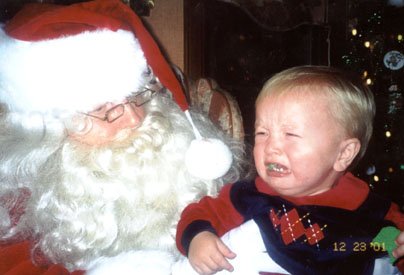 Oh my! You are scaring me to death and I am telling my brother Patrick about you so that he won't come and be subjected to this.
ALL OF US- I've got it, I've got it!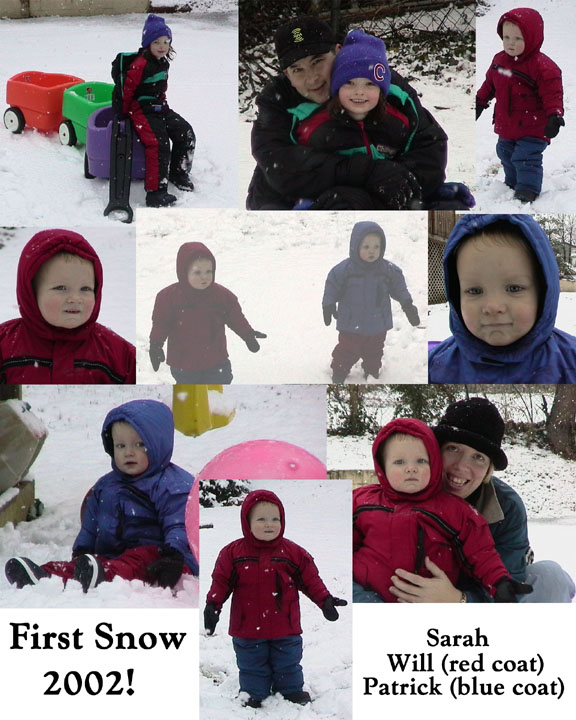 We absolutely loved the snow.
WILL and PATRICK- We were out enjoying the warm temperatures in January 2002!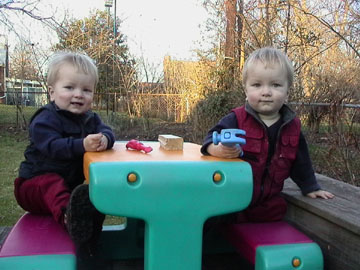 It actually got to 70 degrees a couple of days!